The PowerTac Hero Flashlight is an amazing tool! With 980 Lumens at max power and a range of 340 meters (1,115 feet) is an amazing light source when you MUST see. But when you are concerned about power conservation using the Firefly or Low modes will get you days or weeks of use. Under normal circumstances I use the torch in one of these 2 modes and using it around the house or the campsite I can normally go for 1 to 3 months between charges.
One TOUGH Flashlight
This thing is tough as can be! When I first started looking at the PowerTac Hero about 4 years ago I was at a gun show. The vendor had a video of the flashlight being shot with pistols and AR15s and they showed the light being picked up and turning it on with merely scuffs from the bullet hitting it. My experience doesn't include shooting it, at just over $100 I'm going to take their word on that one…….. but I have dropped it from at least 15 feet in the air. I picked it up and turned it on to the sound of crickets! I was not a happy camper. But alas the battery failed because of the drop and not the light. The battery has a drop safety board built in. It can be removed if you do drop the light. So if you drop it and it stops working before buying a new battery google removing that safety board and save a few $$$.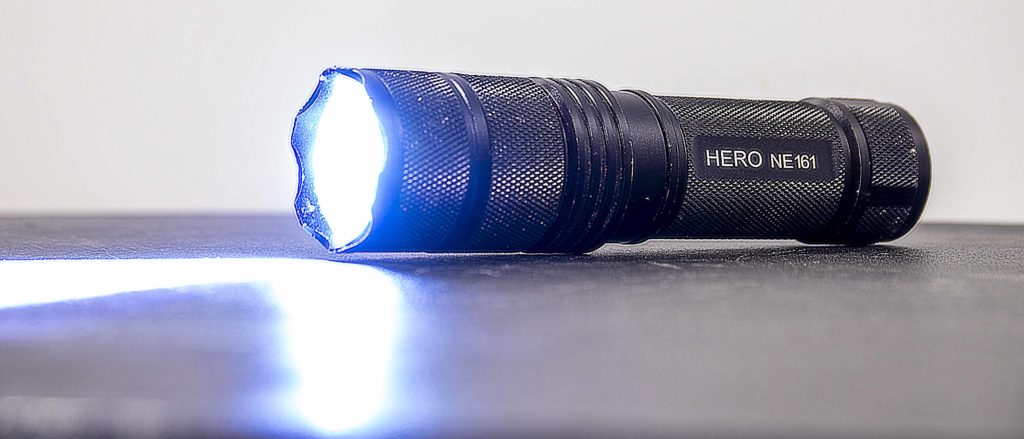 Hero Specifications
LED Type: Cree XM-L2 U3 White LED
Battery: (1)26650 Rechargeable Li-ion.
Size: 

Length:134mm
Bezel Diameter: 36.5mm
Body Diameter: 33mm | Tailcap Diameter: 33mm

Weight: 141g (without battery)
Accessories: 1 micro USB cable, 1 holster, 1 26650 rechargeable Li-ion battery, 1 lanyard, 4 spare O-rings.
Illumination / Runtime:
| | | | | | |
| --- | --- | --- | --- | --- | --- |
|   | Firefly | Low | Medium | High | Strobe |
| Output | 1 Lumen | 100 Lumen | 500 Lumen | 980 Lumen | 980 Lumen |
| Runtime | 720 hrs | 35 hrs | 6 hrs | 3 hrs | 5 hrs |
Buy the PowerTac Hero
Any PowerTac flashlight is a BUY as far as I'm concerned and the reasons I chose the Hero are:
A) Military spec construction. It was SHOT in the video for Pete's sake!
B) Runtime. Even at the medium setting you're getting 6 hours of runtime. That should get you through the night IF you need to have it that bright and you don't keep it on constantly and even if you do keep it on it should get you from sunset to bedtime.
C) It doubles as a cell phone portable charger. Note you cannot use it as a light source while charging a USB device and yes, I have charged an iPad on the go as well with it.
D) 980 lumens isn't the highest output of a flashlight made by PowerTac but it is plenty of light. So much light that I can light up the tops of 40 foot trees from over 300 feet away.
I can't say enough about my PowerTac Hero! If you are in the market and wanting a superb flashlight, you can get one of your own here: https://amzn.to/2Y8bvsn
My Gear:
Canon 70D: http://amzn.to/2DF5mwC
MacBook Pro: http://amzn.to/2DF0UOj
Final Cut Pro X: http://amzn.to/2Dv1L0T
Smith Victor Tripods: http://amzn.to/2E2wZ0p
Vanguard Alta Pro Tripod Kit: http://amzn.to/2DuUAWk
Joby Gorillapod: http://amzn.to/2Dtue74
DJI Phantom 3: http://amzn.to/2DqvpUL
Sevenoak Electronic Ball Head: http://amzn.to/2E2sAKQ
GoPro Hero 3 Silver: http://amzn.to/2DxEsY9
iPhone 7 Plus: http://amzn.to/2DxjaWF
*Amazon links are "Affiliate Links" we get a small commission at no cost to you to help us keep this site going. Shop all of Amazon here: http://amzn.to/2DVCOPn